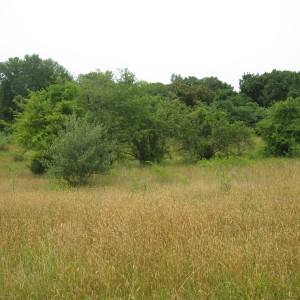 These 12.4 acres of rolling hills — once a horse farm — are currently undergoing native plant restorations, which will return these seasonally dry wetlands to the bucolic prairie meadows of earlier times.
During the summer, enjoy the antics of butterflies hovering over the 2,000 square foot monarch butterfly garden, featuring flowers of milkweed, Joe pyeweed, cardinal flower, and bee baum, just to name a few. Then view and learn about recently planted native shrubs, growing in the hedgerow between the two meadows.
The best time to visit is Labor Day weekend to "pet" docile native bees during their nectar feeding frenzy on flat top goldentop plants in the upper meadow.
Hawks and an occasional bald eagle often circle overhead as visitors stroll down and around the lower meadow, to finally enjoy a welcome rest on a well-shaded bench, overlooking this verdant vista.
Volunteer to help remove invasive plants at Carpenter Farm Park, 55 Old Field Rd, Huntington, NY.  Volunteers will learn to recognize and identify invasive plants at different stages during the growing season, the best techniques and tools to use for removing them, and which native species will prevent the invasives from returning.
To view past activities. go to our home page and click "Carpenter Farm Park" under Categories in the left column.
Click CONTACT page above to request more information and to sign up.
Please type the word "Volunteer" in subject space.