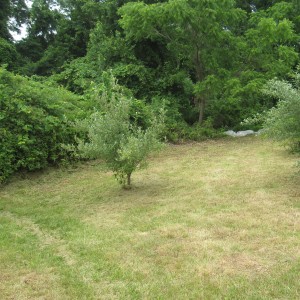 July 25, 2015: Karin, Judy and I cut and uprooted six multiflora rose shrubs, which provided support for dozens of invasive vines that reached high into two large trees — mulberry and black walnut — at the far end of the fence.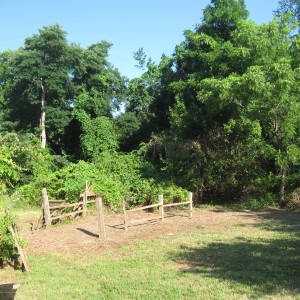 After uprooting the autumn olive we stripped the mowed area south of the fence of numerous honeysuckle root crowns, and porcelain berry, oriental bittersweet, wild grape and creeping euonymus roots between the fences before laying black sheeting.
In preparation for more plastic sheeting, we pulled  roots from the grassy area south of the west portion of fence that had also been cut with a brush hog and mower. This is where poison ivy, spotted knapweed and honeysuckle bushes had infiltrated the cool season grasses.
July 29, 2015: We laid and stapled black plastic sheeting over the clearing to smother existing growth by inhibiting  photosynthesis. Once devoid of cool season grasses and weeds we will remove the plastic to broadcast native grass and wildflower seeds.